This morning over pancakes I tried to calm my son's butterflies and gather school supplies as a new school year begins. The end of a long summer and that approaching first day catches you by surprise. This coming week, I'm trying to stay busy as it is also the release for our new book The Day You Begin.
The spark for this book all began with an amazing writer, Jacqueline Woodson who by the way, can only write in her notebook sideways. This story is inspired by a poem in her powerful memoir Brown Girl Dreaming about her own great grandfather William Woodson, the only black child in an all-white school.
.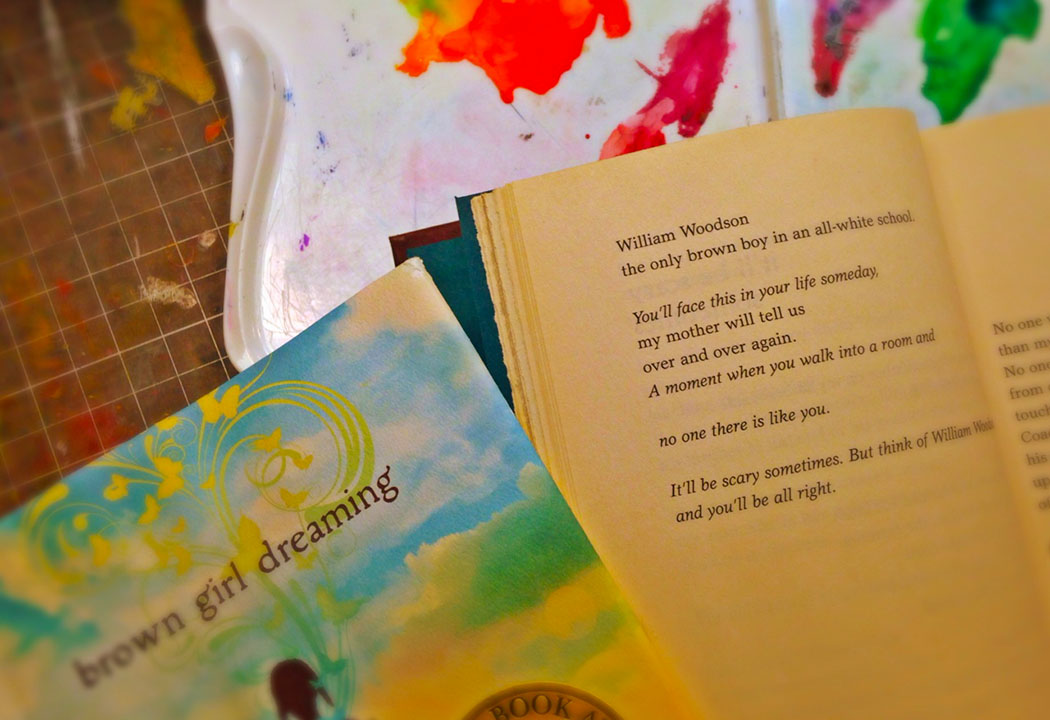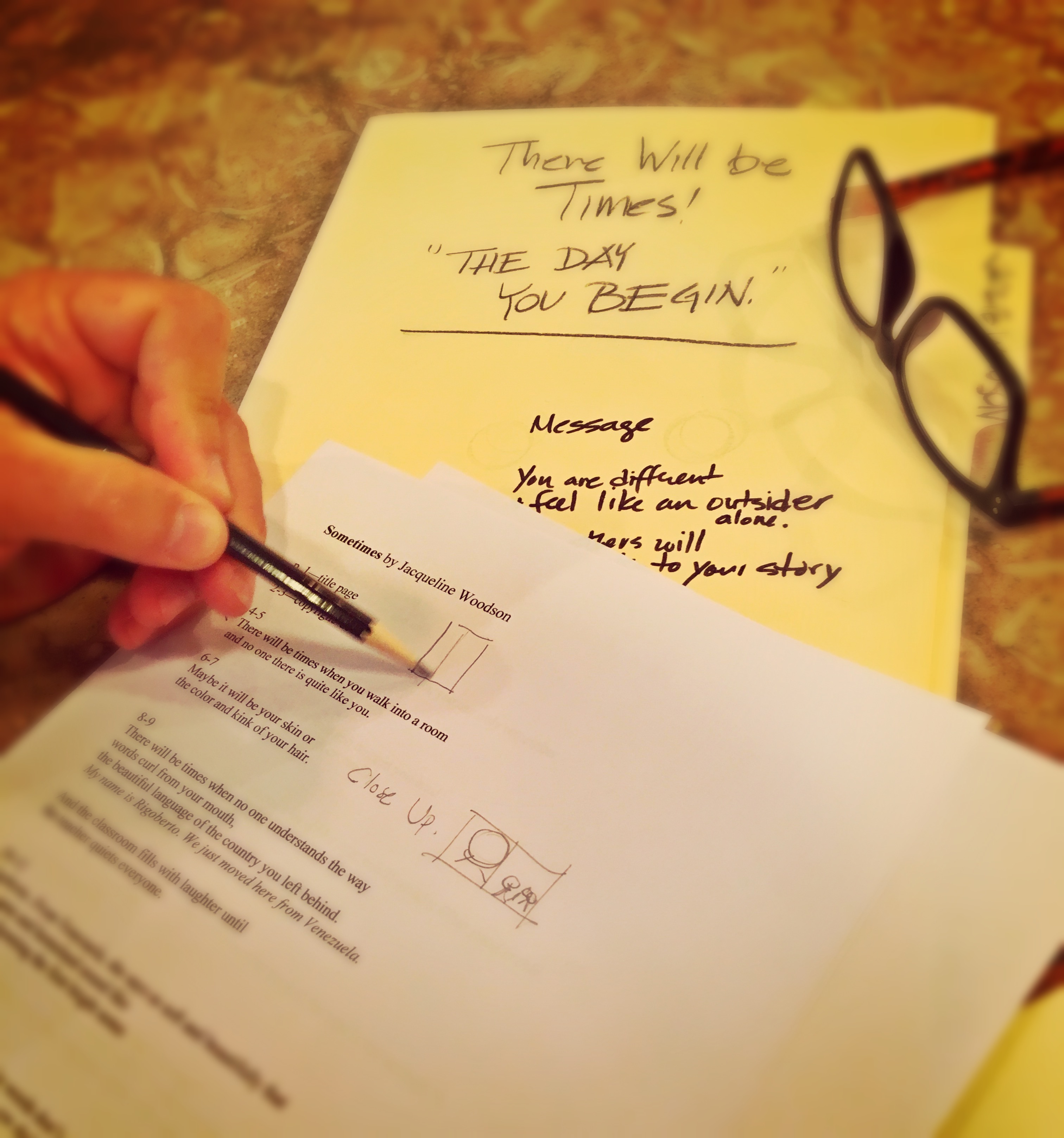 When I read Jacqueline's manuscript, words triggered memories. I couldn't help but see myself, my own child and many children in that story. In a flash, I was sure that kids who felt alone would find comfort in her reassuring words. She had crafted a story that children could both relate to and translate into their own voice and for me, this made all the difference. I was determined to do my part in this collaboration to bring visual voice to the encouraging message. That is where my own journey with our book began.
For me, sketching is thinking with my pencil. It's an ancient art form that goes back to drawing pictures on the walls of caves and I can assure you there is magic in the process of drawing.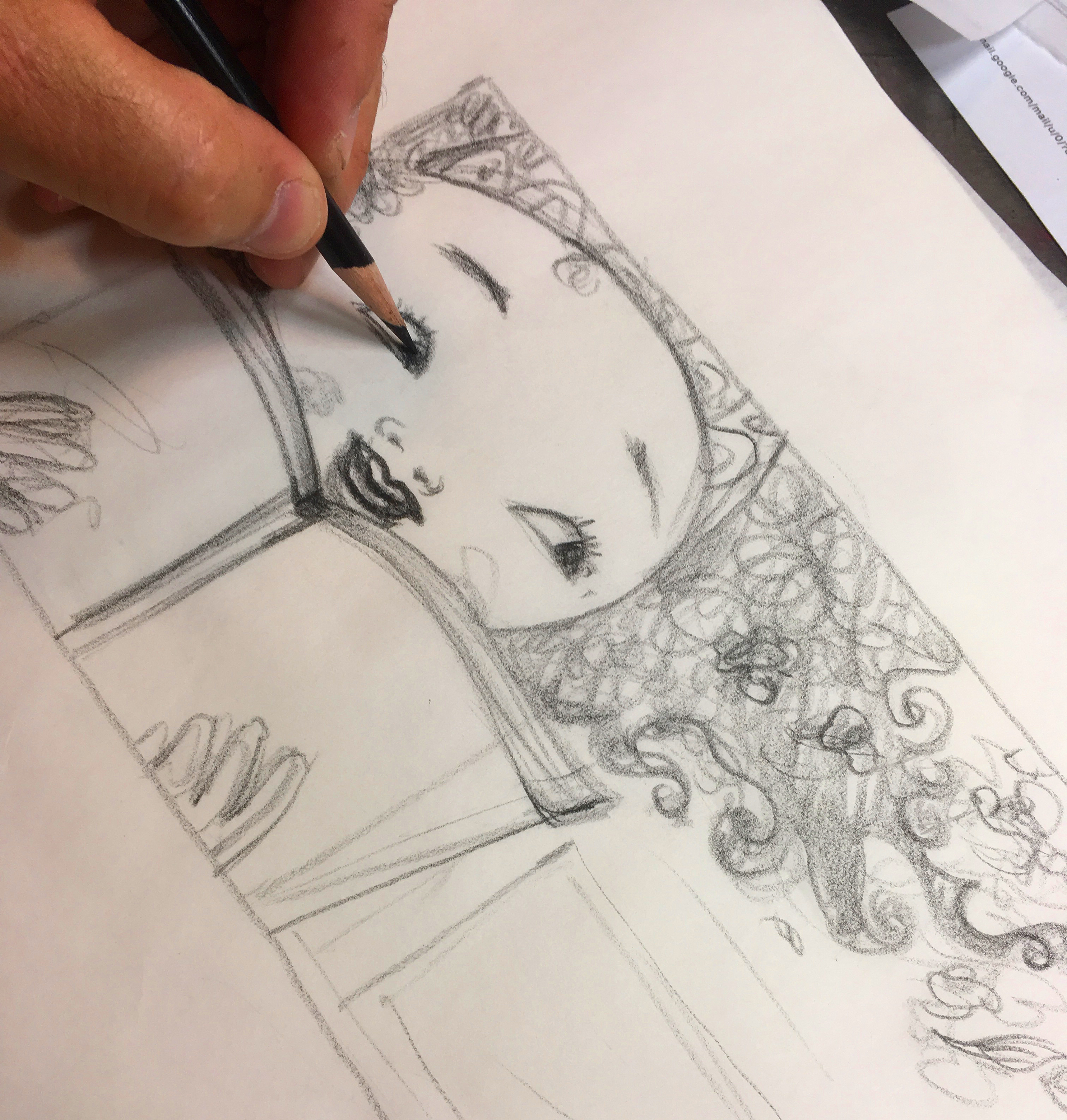 No matter how long you've been drawing you just have to keep working at it, keep trying and if it doesn't feel quite right, trust that inner voice. Be ready to go through piles of tracing paper to conjure the spirit of a character like Angelina who instead of traveling and collecting souvenirs like fellow classmates, spent summer at home caring for and reading books to her little sister. With imagination and courage Angelina still manages to go places.
Through drawing, you put small pieces of your own experience into the marks you make on paper. When I was in grade school, I struggled with big blocks of text. I was labeled with mild dyslexia and called a reluctant reader. Growing up in Mexico City, I found solace at the public library taking the metro over and hour to spend an entire day in the aisles of books. I realized I was drawn to the pictures and maps of distant places, strange bugs from foreign lands and creatures so exotic that even my own vivid imagination couldn't dream them up. Opening books grew my confidence and I began to read more and draw pictures at the library. At home, I was fortunate to have a supportive mom who collected discarded rolls of paper from our uncle who worked at a paper mill.
Looking back, I was struggling as we all do, to find my place in this world.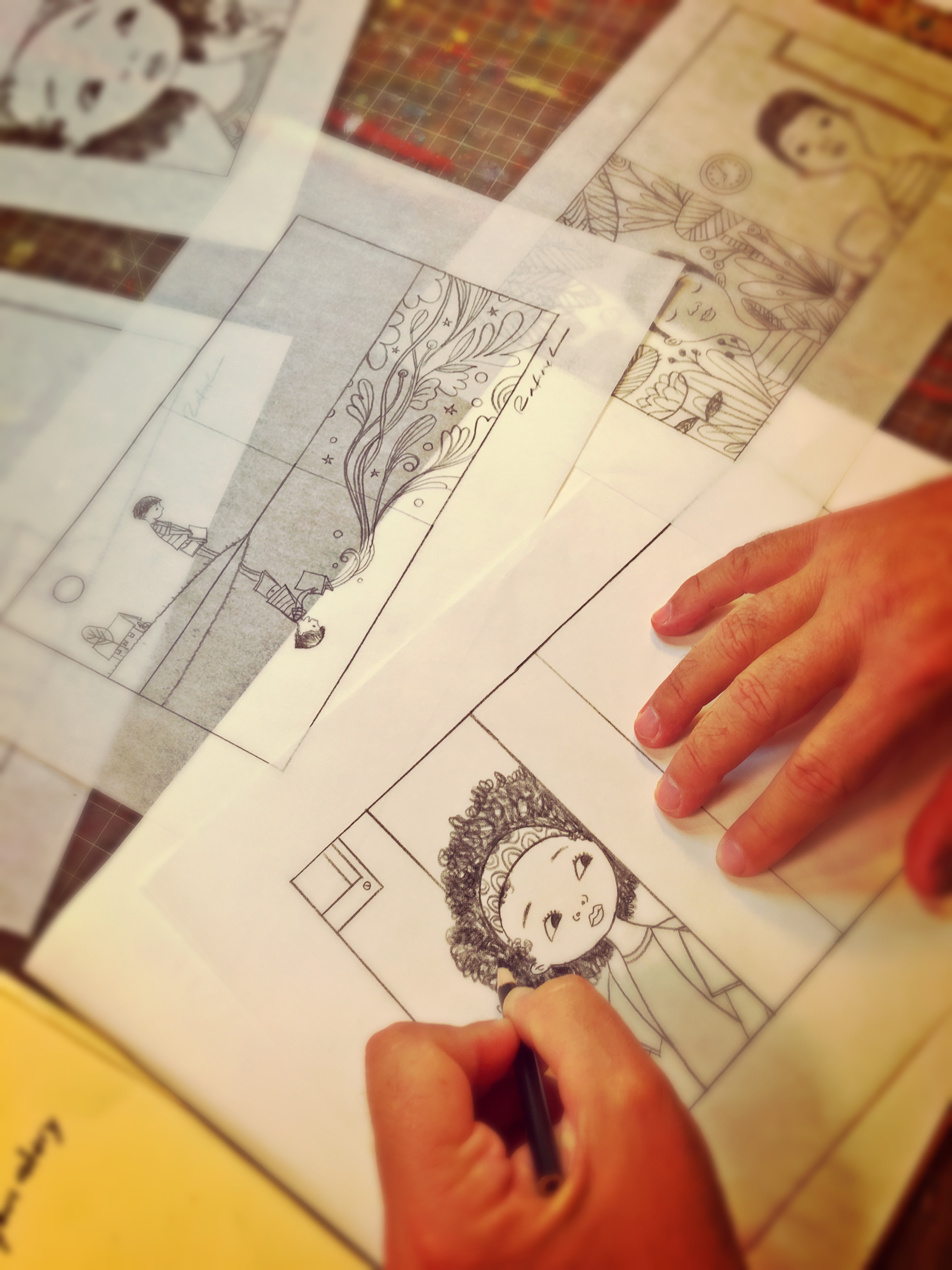 There is a boy in The Day You Begin named Rigoberto from Venezuela who is teased for his accent. When my family moved to the border I became part of a Rotary exchange program. I traveled alone to live with a host family in the Midwest and attended school there to practice my English. Jacqueline begins this book with "There will be times when you walk into a room and no one there is quite like you". I will never forget feeling so out of place, so different. I wish I had her comforting words when I was a kid. But I also remember one new friend who took the time to listen to my story and over time confided that she too felt different.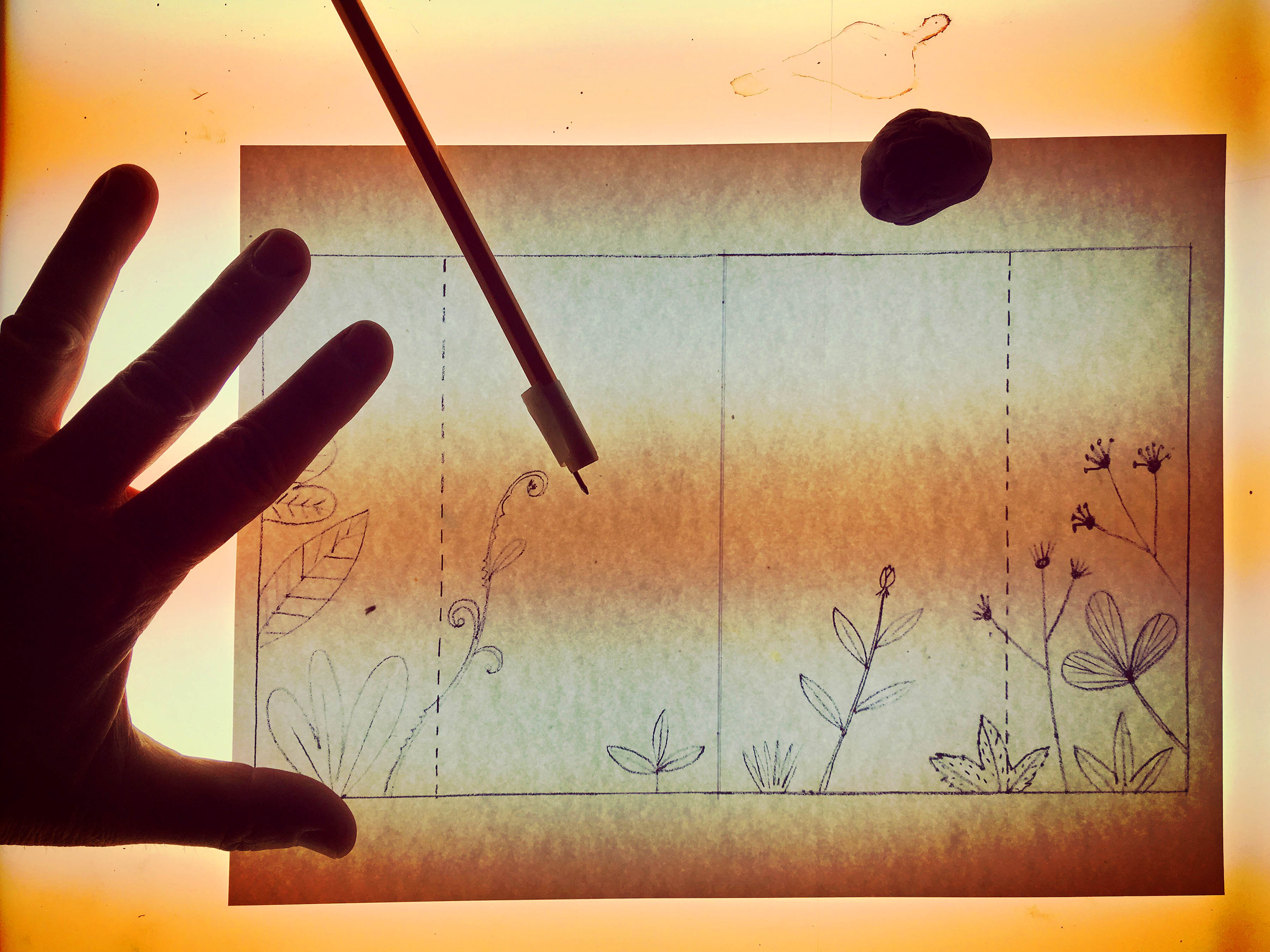 This story was like a familiar friend. It was time to begin.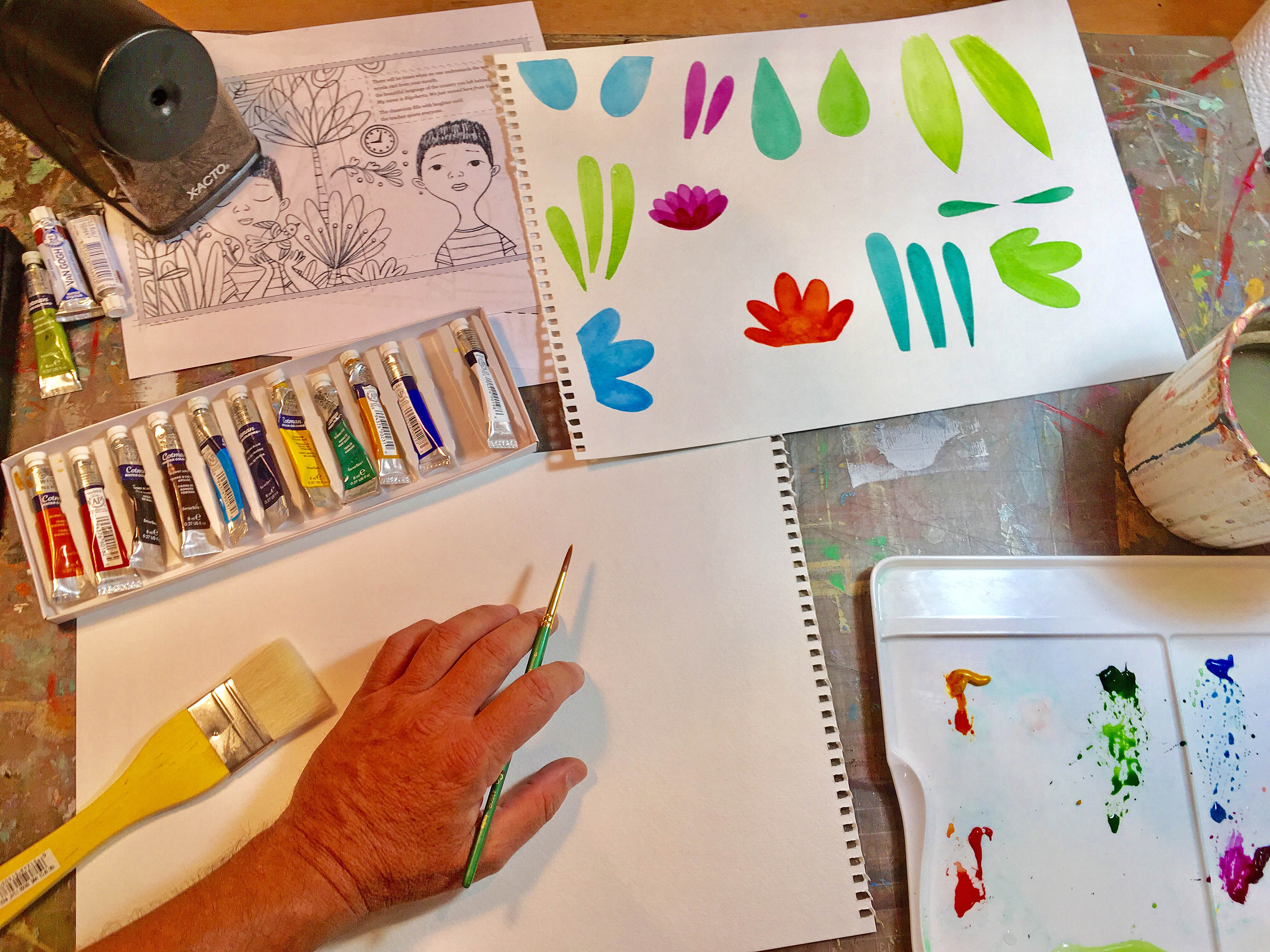 With that as my starting point, I began searching for the right colors, textures and shapes, curious to give each plant, leaf and character personality.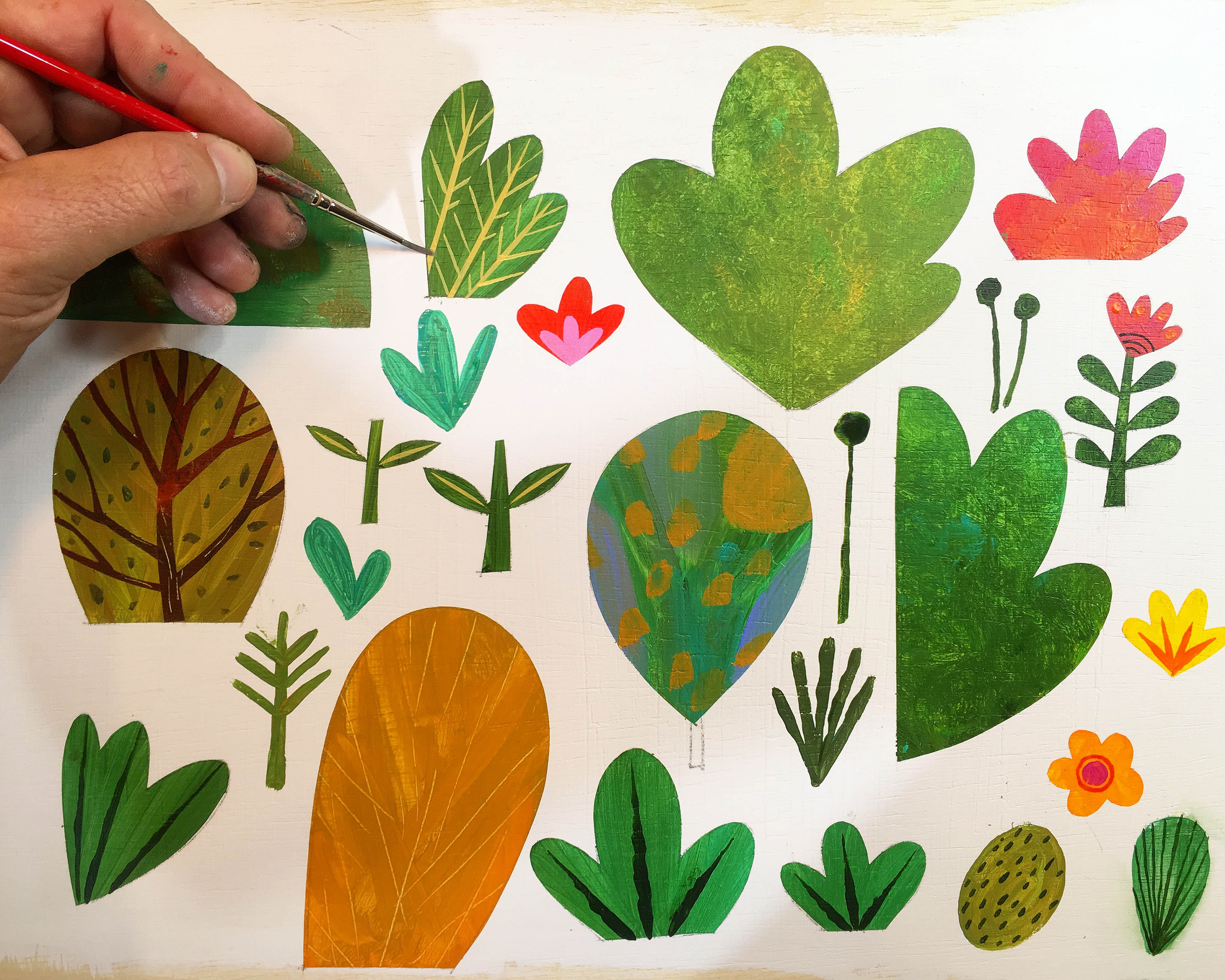 Shape, color and texture are the language an artist uses to communicate the spirit of each scene. A way to speak to young readers without words.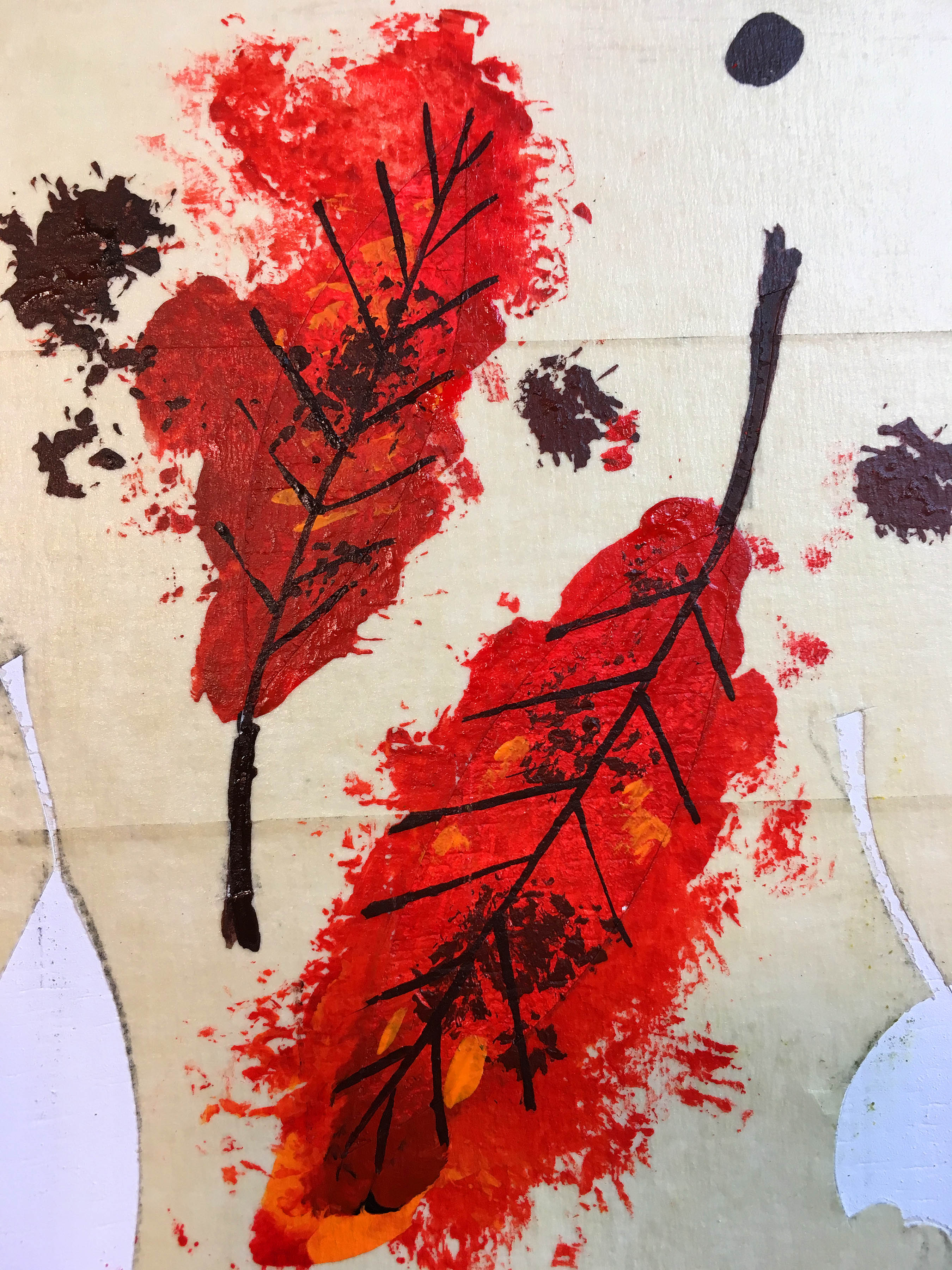 My creative process includes peeling away tape to reveal forms and shapes that help me tell the story.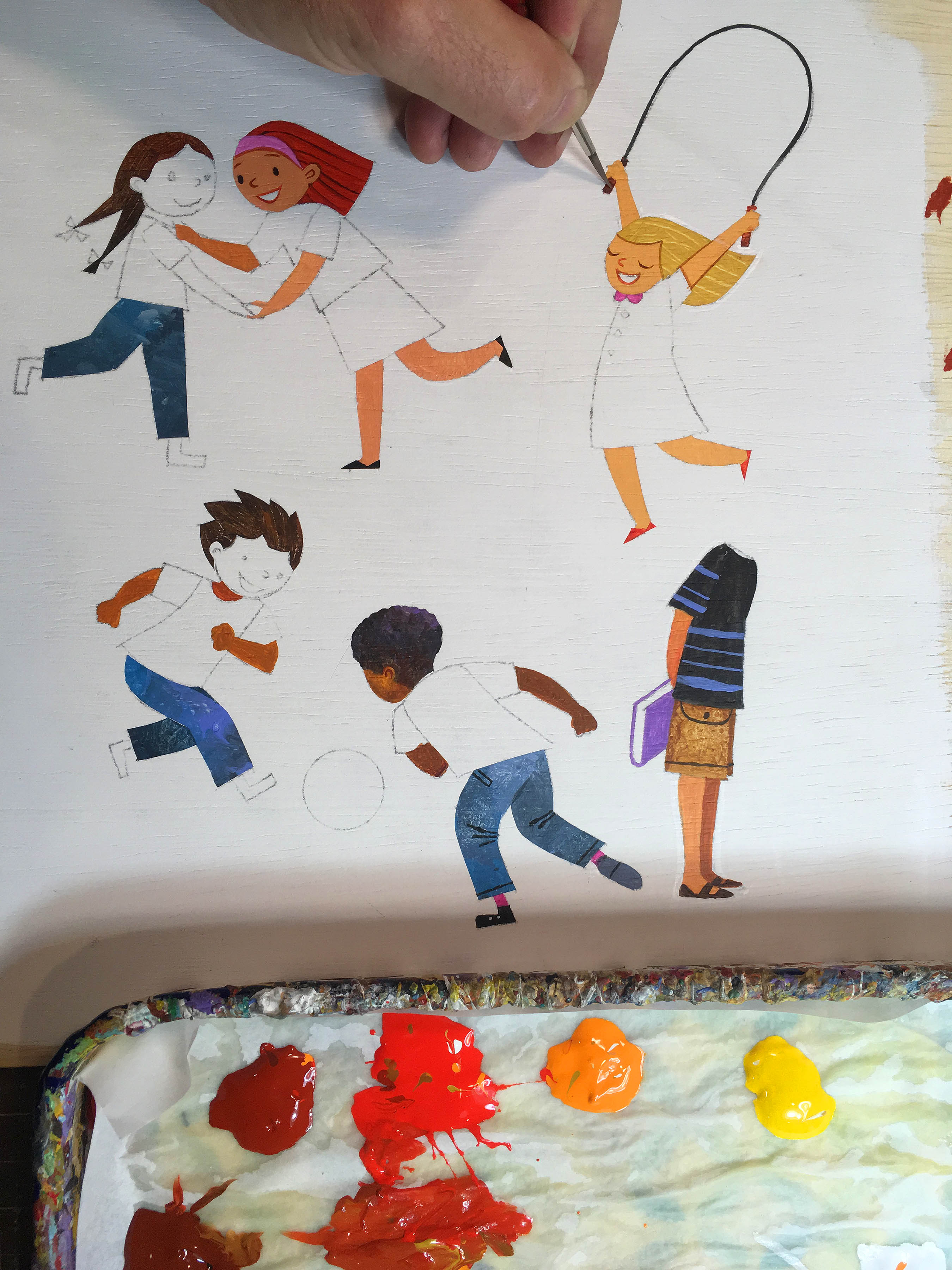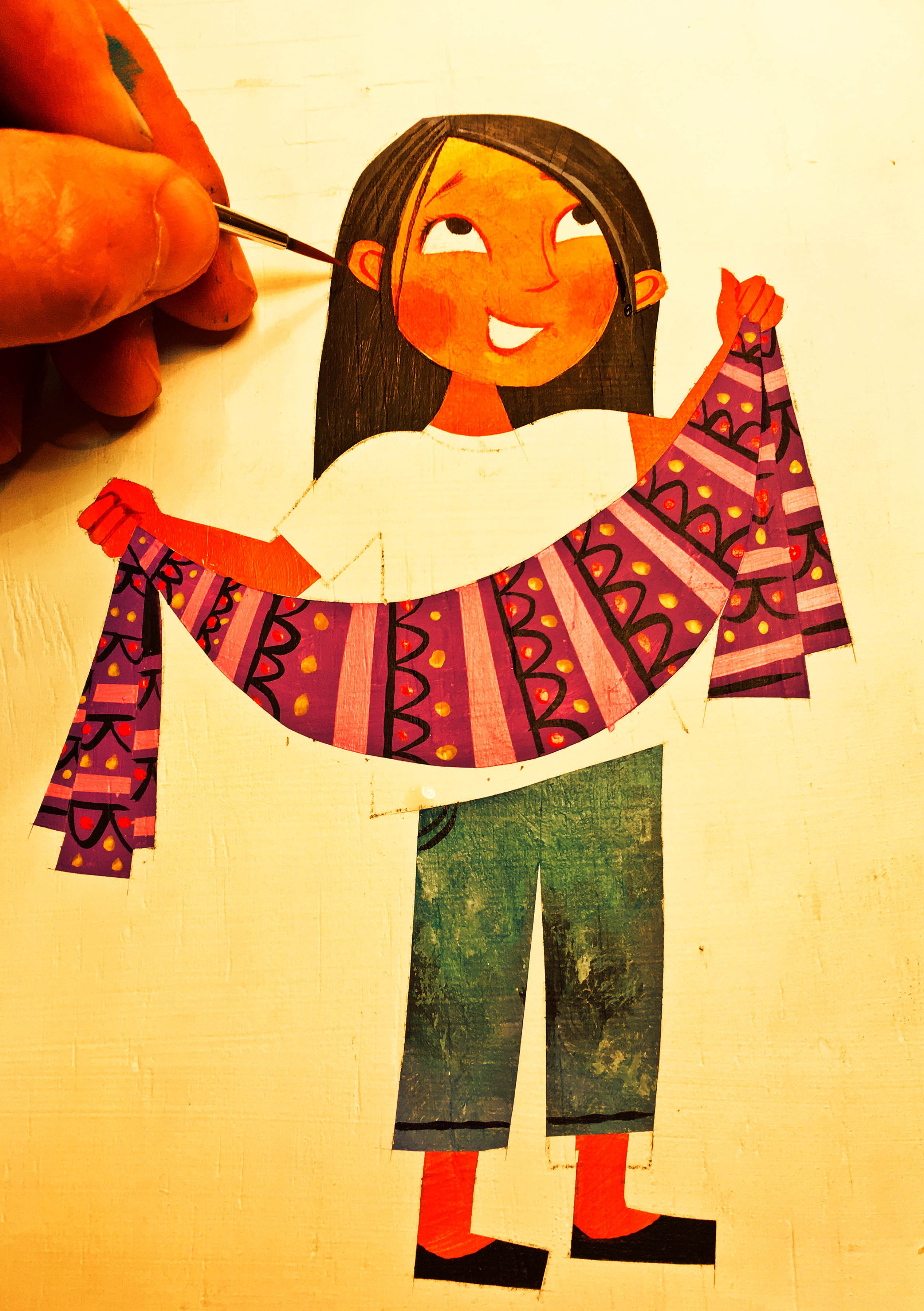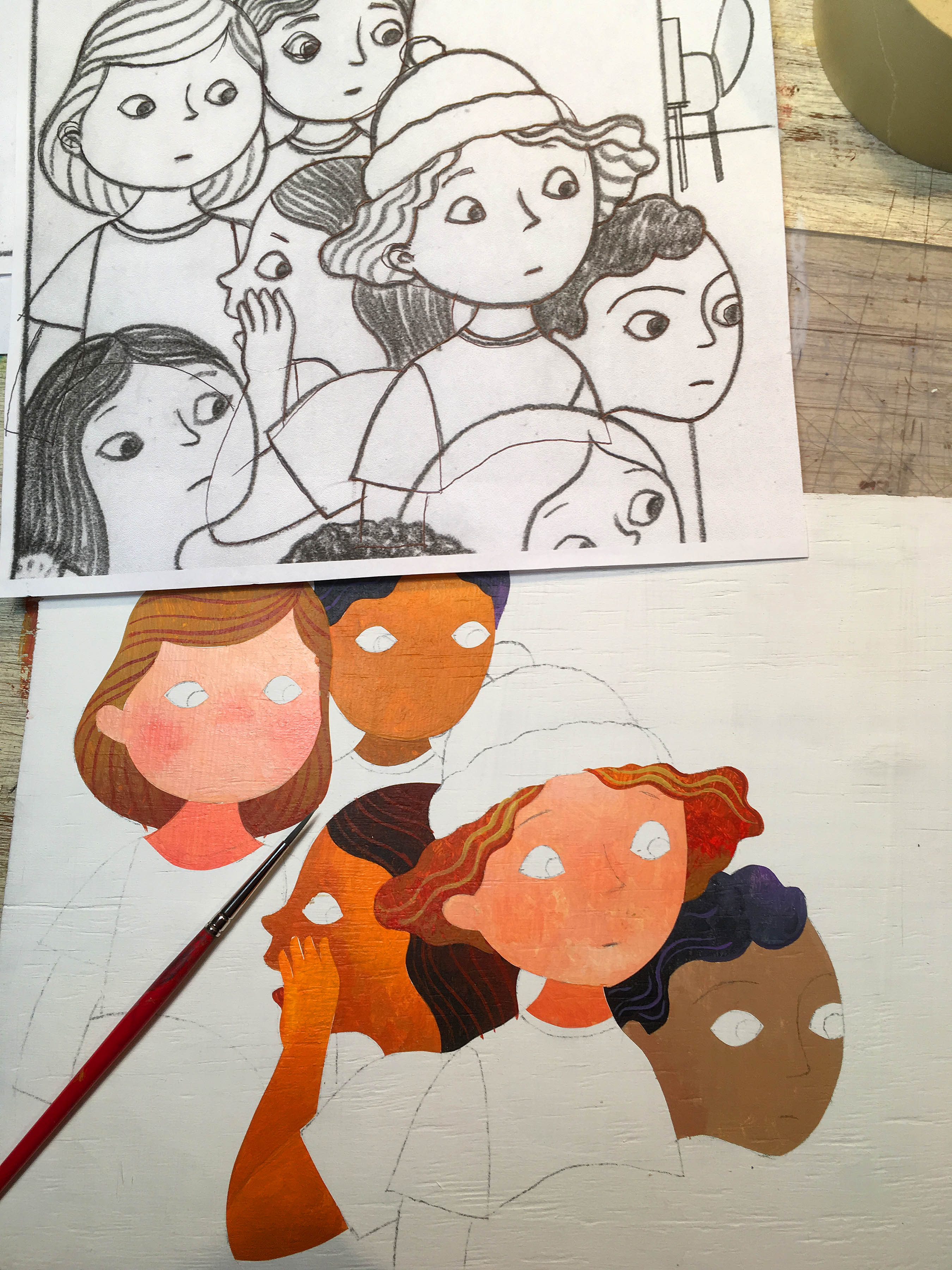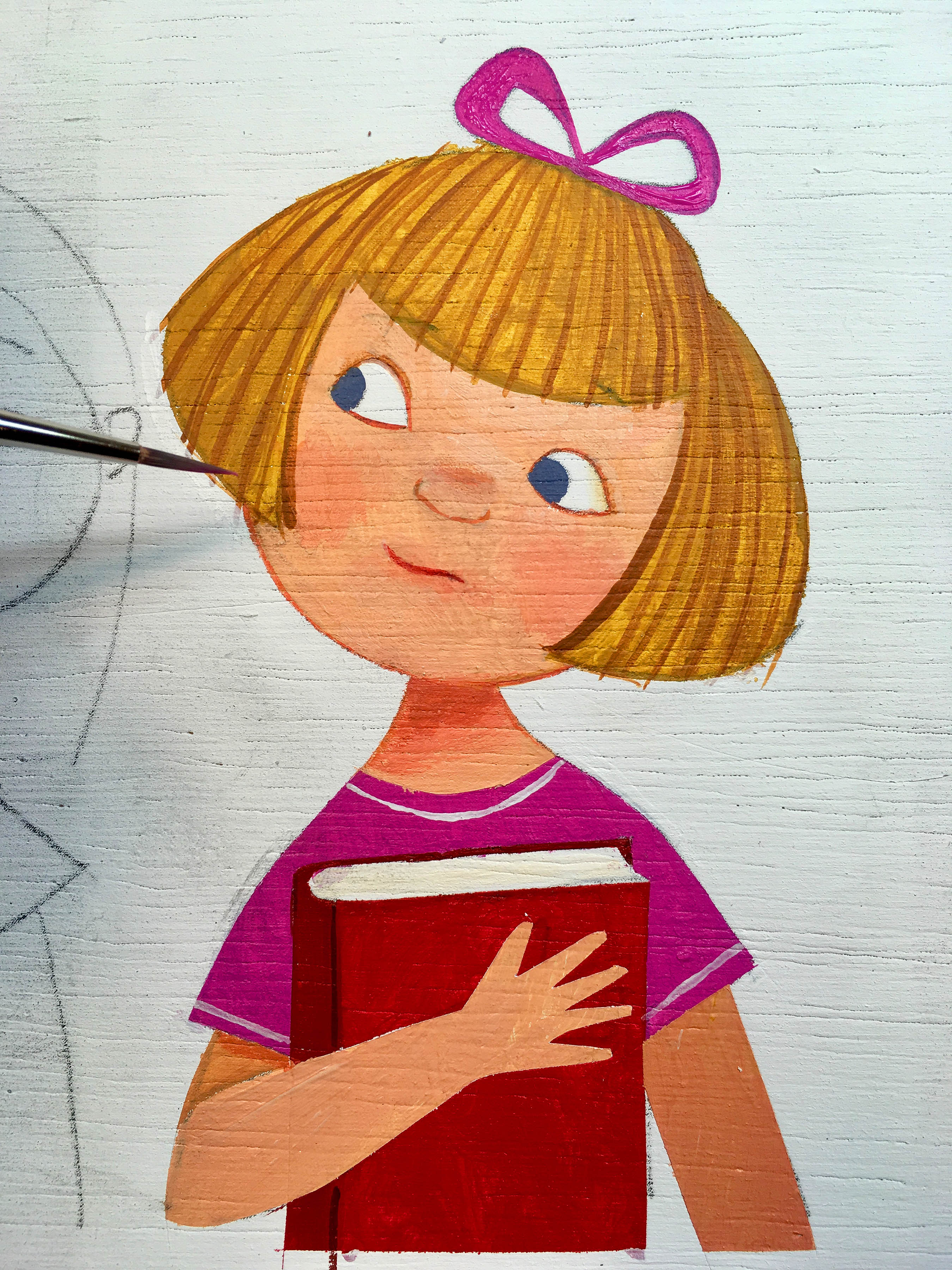 Characters slowly take shape on pieces of wooden board and watercolor paper. They help reveal what for a time is hidden, bringing humanity to the unfolding story.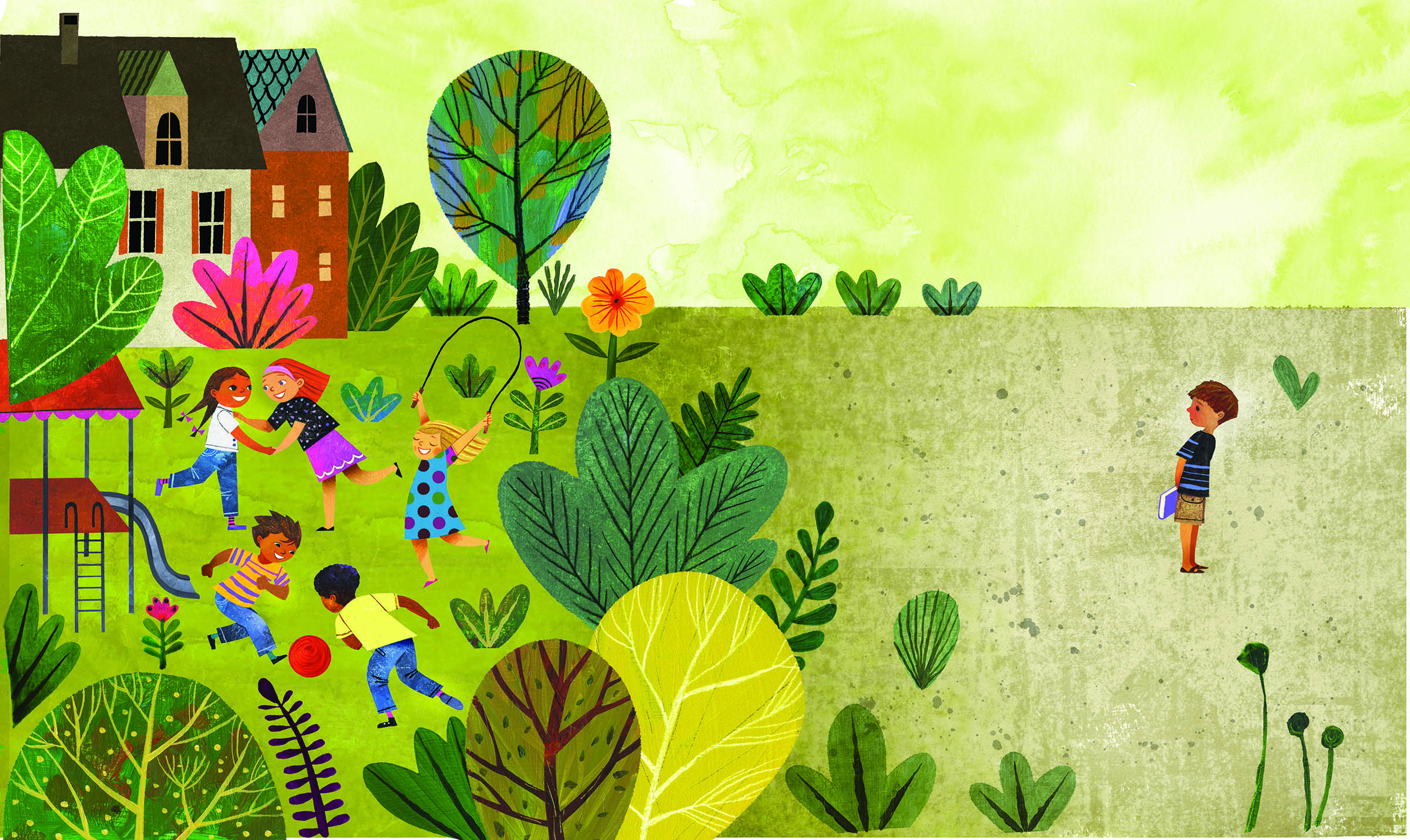 Here's an example where supporting characters back up the action, revealing difficult truths in the narrative.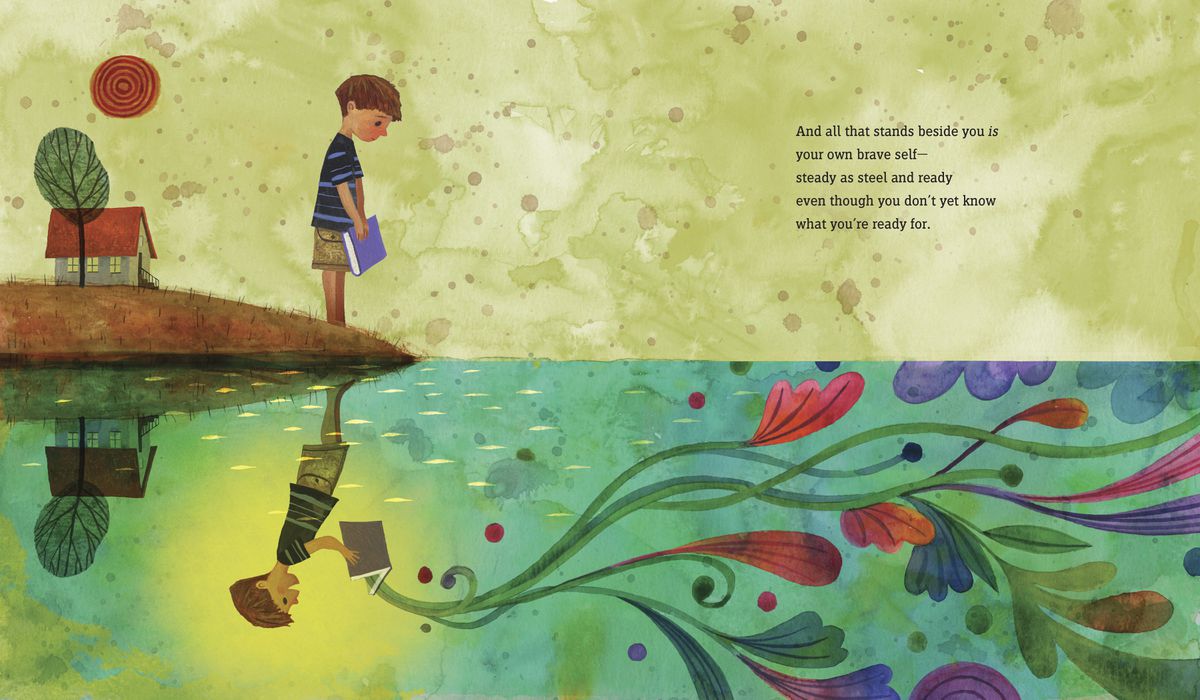 I wanted the illustrations to give voice to unspoken feelings and dreams. To spark hope as each child opens the cover and turns the pages to find themselves somewhere in the swirl of colors, pictures, and words.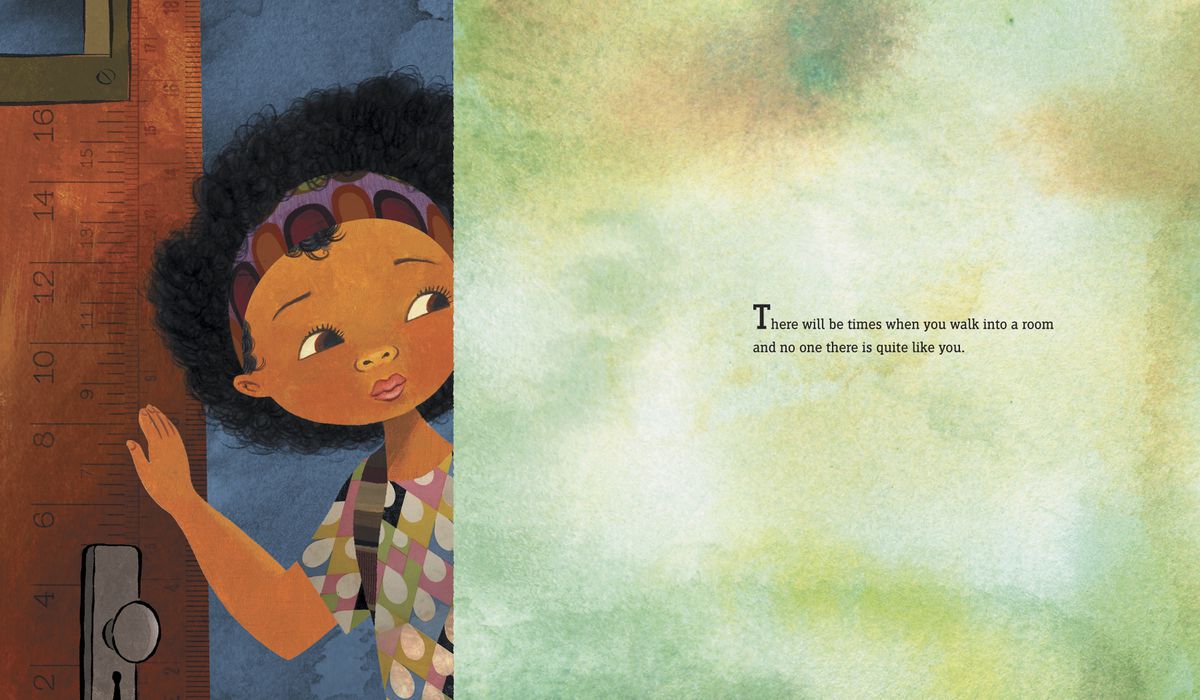 I've hidden a visual metaphor that is repeated on several spreads of the book. I'm hoping to make kids curious and ask questions of themselves and others about what it might mean to them.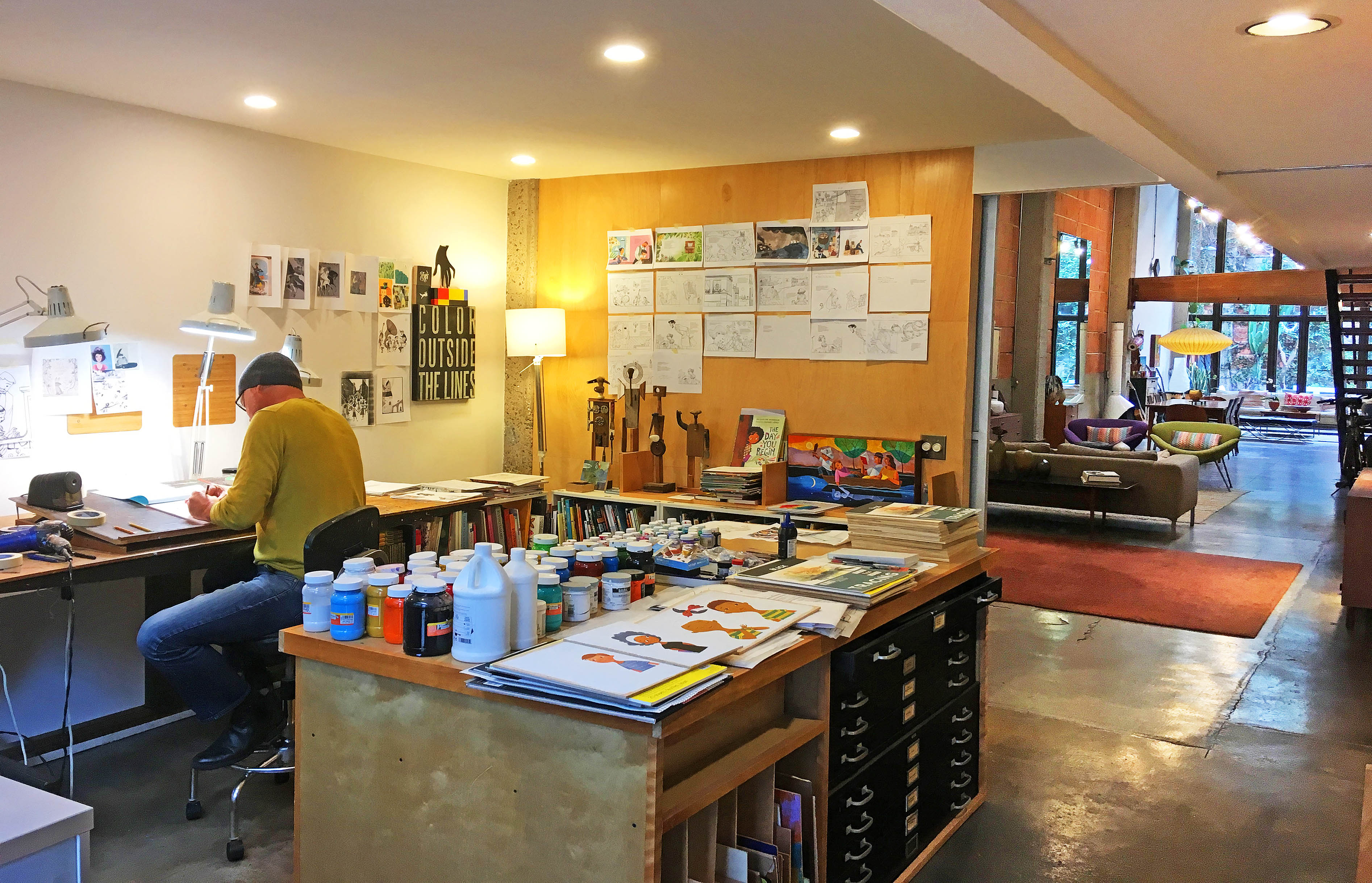 Then somehow it comes together. There's gratitude for the collective effort of the amazing team that collaborated guiding our book to the finish line.  It all ends up on the studio wall to check for pacing, transitions, consistency and how it will connect to young readers.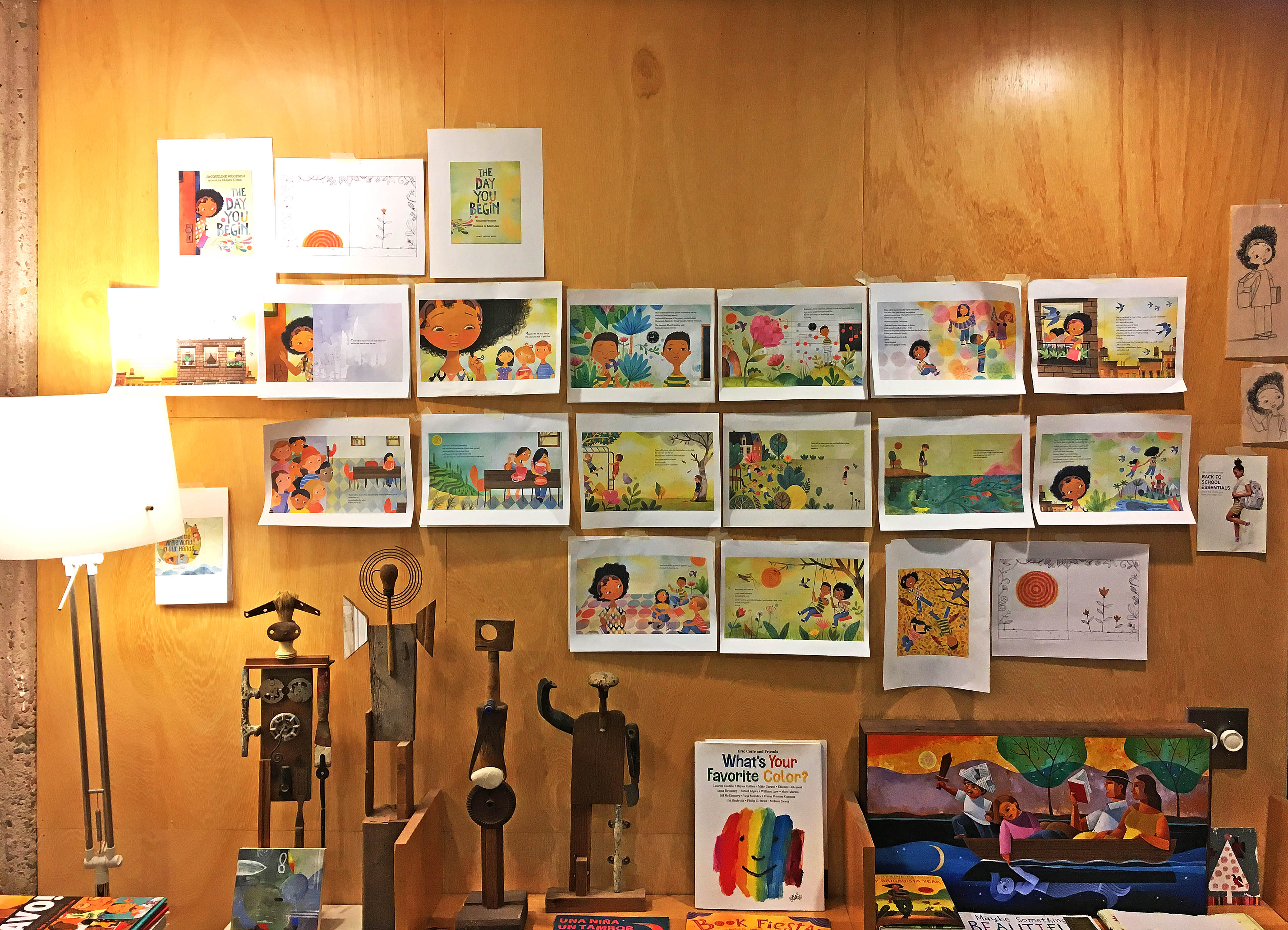 For this book, I got the chance to craft handmade type for the cover. It meant a lot to me that our book is also going to be released at the same time in Spanish El Día En Que Descubres Quién Eres!
There is something surreal about the first day of school and the first day a new book begins. It's a moment charged with emotion. It's relief, joy, amazement and fear all rolled up in one.  In the end, it all comes down to the librarians, teachers, parents, grandparents and friends who put books in the hands of children.
It's a big week for many of us. Stay strong.