After the sadness of Las Vegas, needed to take a deep breath. Thoughts go out to the families and friends of the 58 people who died as well as support for the more than 500 who have been injured.
For HISPANIC HERITAGE MONTH I've been sharing the stories of incredible Hispanics who chose different paths in life but whose work continues to make an impact. SELENA QUINTANILLA-PEREZ [1971-1995] had that magic and is credited for successfully bringing Tejano music to a mainstream public.
Known as "The Queen of Tejano", her life was tragically cut short. In her brief but bright lifetime, Billboard Magazine called her the top selling Latin artist of the decade. More than a gifted singer, she was also an accomplished songwriter, actress, model and fashion designer. In 1980 she performed with her elder siblings A.B. and Suzette and began recording professionally in 1982.
She broke barriers by performing Tejano music. This genre was dominated by men and often Selena was refused bookings at Texas venues. When she won best Female Vocalist of the Year she signed with EMI Latin and released her own album in 1989. She went on to sell over 60 million albums around the world.
Selena was also community minded, donating a great deal of time to civic causes. A film about her life and career, starring Jennifer Lopez was released in 1997 from Warner Bros. Her grace, musical gifts and ambition continues to inspire others.
.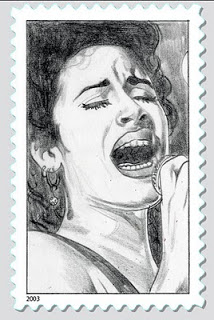 I was fortunate to be given the opportunity to design a postal stamp in her honor that was released in 2011 as a Latin Music Legends Stamp from the United States Postal Service. Above you can see some of the original drawings that led to the final stamp.  I am grateful for the support of her sister Suzette who sent powerful photos and video of Selena performing that inspired the finished postal stamp below.