"Once social change begins, it cannot be reversed. You cannot un-educate the person who has learned to read. You cannot humiliate the person who feels pride. You cannot oppress the people who are not afraid anymore". -César Chávez
CESAR CHAVEZ, [1927-1993] was a dynamic, social activist who used nonviolent protest to champion farm workers' rights. He made people think about where their food came from and drew strength from his own struggles.
This Latino American was born in Yuma, Arizona and grew up on his family's farm. Losing their property during the Great Depression, they moved to California and became migrant workers. The work was incredibly hard with very low wages and Cesar's family had trouble just putting food on the table. Because they had to move around so much to work the fields, he went to 38 different schools before completing eighth grade. Chávez loved to read and learned about the nonviolent protests methods used by Ghandi in India. His own experience also taught him important lessons about the unfair treatment of migrant workers. He left to serve in the Navy for two years and married when he returned home. After working on farms for a few years he took  a job working for Latino civil rights.
Where others saw adversity he found inspiration. In 1952 he became an organizer for the Community Service Organization that worked for California civil rights. He became the national director of the group and it is said that President Kennedy offered him a job to head the Peace Corps in Latin America. Chavez chose to instead join Dolores Huerta to found the National Farm Workers Association, now known as the UFW or United Farmworkers of America.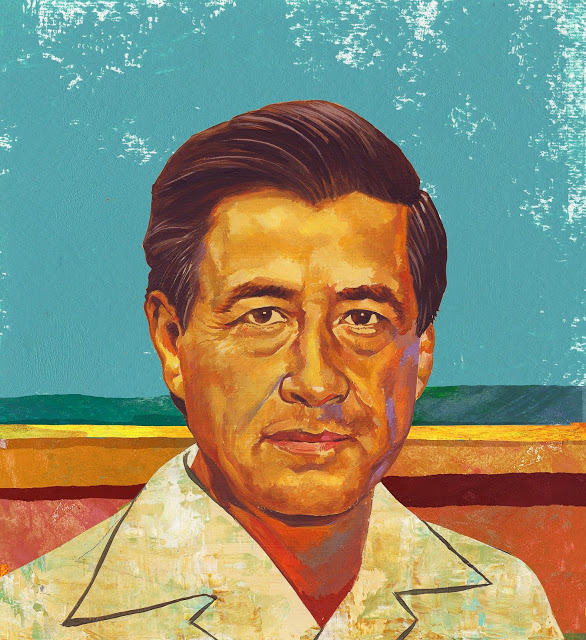 Chavez lead the United Farmworkers to secure union contracts that stopped the use of DDT.  Workers were required to wear protective clothing to reduce harmful exposure to pesticides and his efforts ended spraying when workers were in the fields. To make his point, Chávez fasted for 36 days in protest of pesticide use on grapes. Through his leadership he formed a diverse coalition for farm worker boycotts that included students, union members, religious leaders, minorities and middle class consumers. He died as he had lived, peacefully and more than 50,000 people attended his funeral services in Delano where he began his movement for social justice. A recipient of the Presidential medal of freedom, libraries, schools, parks, streets and scholarships are named in his honor. His birthday is an official holiday in 10 states and his motto "Si se puede!" which translates to "Yes it can be done" still resonates. He himself said his job was to help ordinary people do extraordinary things. Dignity and respect were gifts he gave people, a belief in themselves, no matter how much was in their pockets or what kind of education they had.
In creating his portrait for Bravo! Poems about Amazing Hispanics I struggled with my brushes to communicate how unique and humble he was. How he valued equality and justice. His humanity and ability to connect to and inspire so many from different walks of life.