The arc of the life of TOMAS RIVERA [1935-1984] took him from the fields of Texas and the Midwest, to the office of a University of California Chancellor. The son of migrant farm workers, Rivera picked fruits and vegetables till age 20 when he pursued his education full time. He eventually became a  Chicano writer, poet and teacher. Tomás began writing at twelve and was an eager reader who valued family. Despite the repetitive challenges and barriers placed in his way he had the courage to overcome adversity and open doors for others through education.
In 1956, he achieved his B.A in English from Southwest Texas University to focus on his writing career instead of migrant work. Rivera published his first novella, made up of fourteen short stories in 1971 called And the Earth Did Not Devour Him. This first work won the Premio Quinto Sol literary prize that recognized and promoted Chicano writers. This notable author and poet never forgot his past and wrote extensively about the life of migrant workers using firsthand experience. He also contributed to a book of poems, Always and Other Poems wrote for the bilingual journal of Mexican-American ideas El Grito. Rivera's toolbox was filled with perseverance, hard work, intelligence and the power of his pen. Not only did he dedicate his work to helping others attain higher education, he was determined to encourage and create opportunities for Mexican-Americans so they could break barriers in writing and publishing.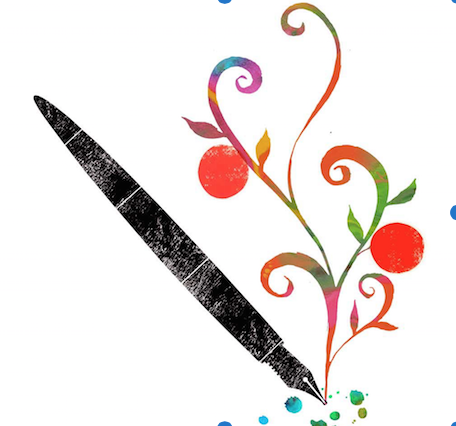 As a creative writing teacher he touched numerous lives including my friend, Newbery honor author Margarita Engle. Today I'm sharing illustrations I created for the book Bravo! Poems about Amazing Hispanics that Margarita dedicated to Rivera. He made essential contributions to the Chicano Literary Movement and was deeply concerned about education. As a writer he related the challenges he faced growing up and used them to comment on the struggles of being a minority. His stories were told from the perspective of a young narrator. As the narrator became more aware of the outside world, he understands morality and immorality. Rivera's characters avoid stereotypes and are unique giving authentic insight into the Chicano experience.
Higher education for Hispanic communities was an imperative for Rivera as he knew it would make a difference for individuals and communities. Rivera worked as a high school teacher throughout the Southwest as well as at Sam Houston State University, and the University of Texas at El Paso.  He was more than a great teacher, he was a leader and eventaully served as Chancellor of the University of California, Riverside from 1974 till his death. Tomás Rivera has the distinction of being the first Mexican-American chancellor in the U.C. system.
Rivera was an educational activist and his literary works focused on personal struggles key to advancing Latina/o literature. A blazing comet his career lighted a course of of encouragement for other Latina/o authors to tell their own stories in published works. His own poetic stories were rich with attention to detail and grounded in his own experiences.
An activist, he served as president of the Alamo Valley chapter of the American Association of Teachers of Spanish and Portuguese and he was a  founder of the National Council of Chicanos in Higher Education. He was appointed to higher education commissions by two sitting Presidents. On the board of the Carnegie Institute he also founded the Tomás Rivera Institute for Public Policy on Chicanos in Higher Education based at the Pomona College campus. Santa Clara University awarded him an honorary doctorate and he was named a distinguished graduate by Southwest Texas State University. His reach extended further by serving on the boards of the Corporation for Public Broadcasting and  Educational Testing Service of Princeton, New Jersey.
In 1978 he married Concepción Garza and together they raised three kids.Texas State University College of Education created The Tomás Rivera Mexican American Children's Book Award in 1995. It recognizes authors and illustrators who create literature that depicts the Mexican American experience. On the Riverside campus, the University of California named the plaza to honor his legacy. There are 85,000 items in his archive, especially remarkable because Tomás Rivera was the first person in his family to ever attend college. Rivera had the vision to see that generations of migrant workers could attain higher education, contribute and reach their goals.