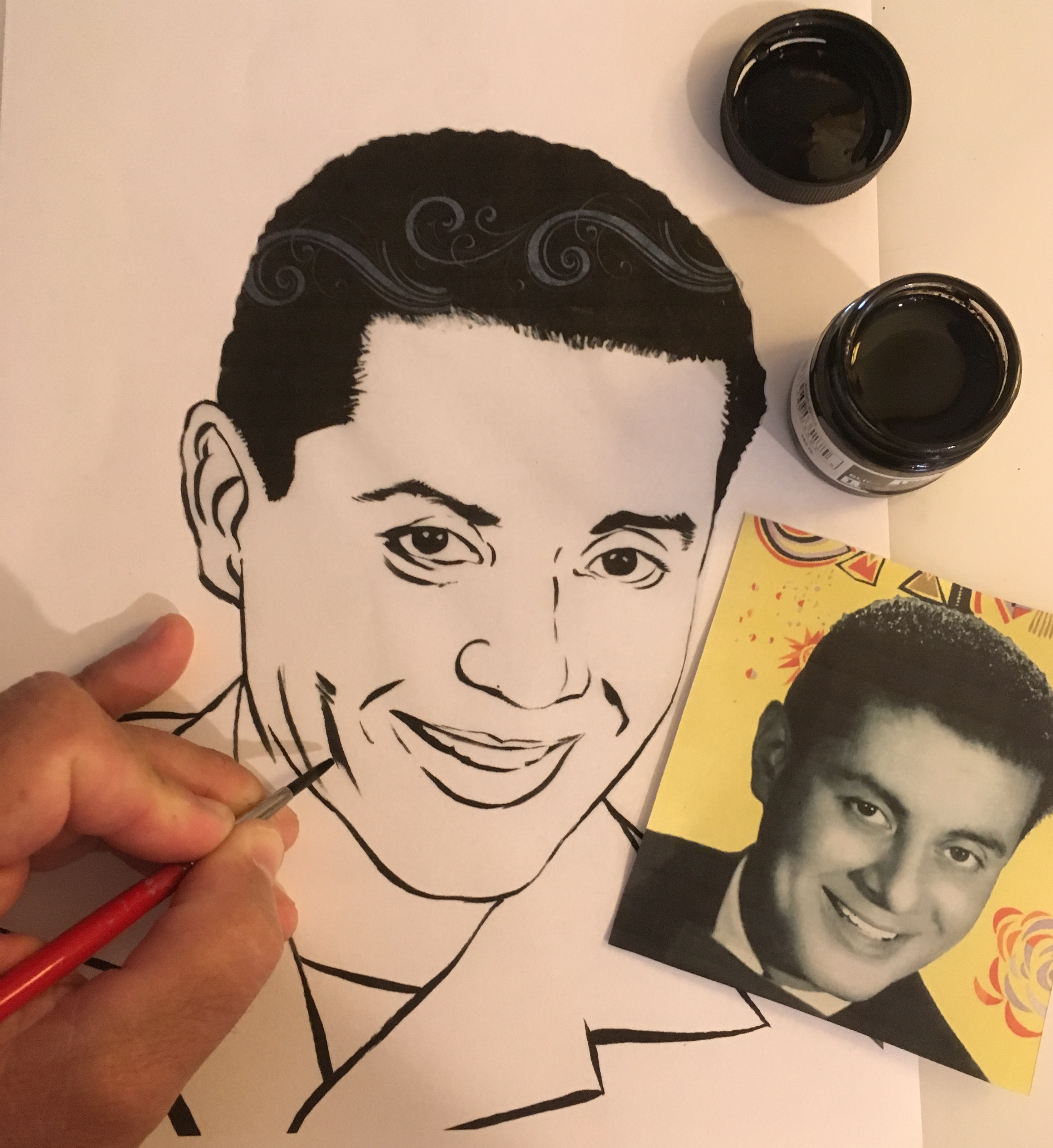 TITO PUENTE
[1923-2000]
pioneered an original sound that mixed mambo and Latin jazz, spanning a 50 year music career. The son of Puerto Rican immigrants, he grew up in New York City. For Hispanic Heritage Month it's time to pay tribute to the
The King of Latin Music.
I count myself lucky to have see him perform with unforgettable style once on the streets of San Diego.
A big fan of his experimentation and unique sound, today I'm sharing original illustrations created for the book
Tito Puente Mambo King,
written by
Monica Brown.
 I'm also including artwork for the
Latin Music Legends stamps
 honoring Puente, that I developed for the United States Postal Service.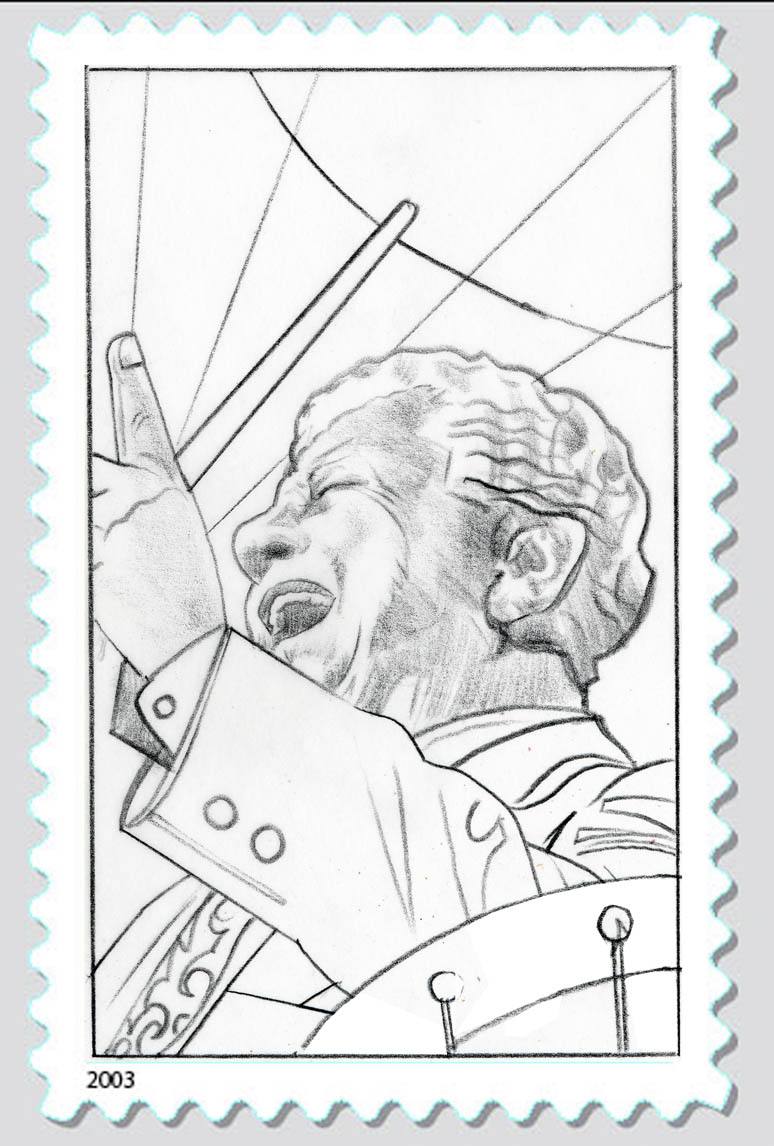 This kid had rhythm the day he was born. In the scene below, the eager percussionist gets his start by banging on pots and pans in the kitchen of his Spanish Harlem home.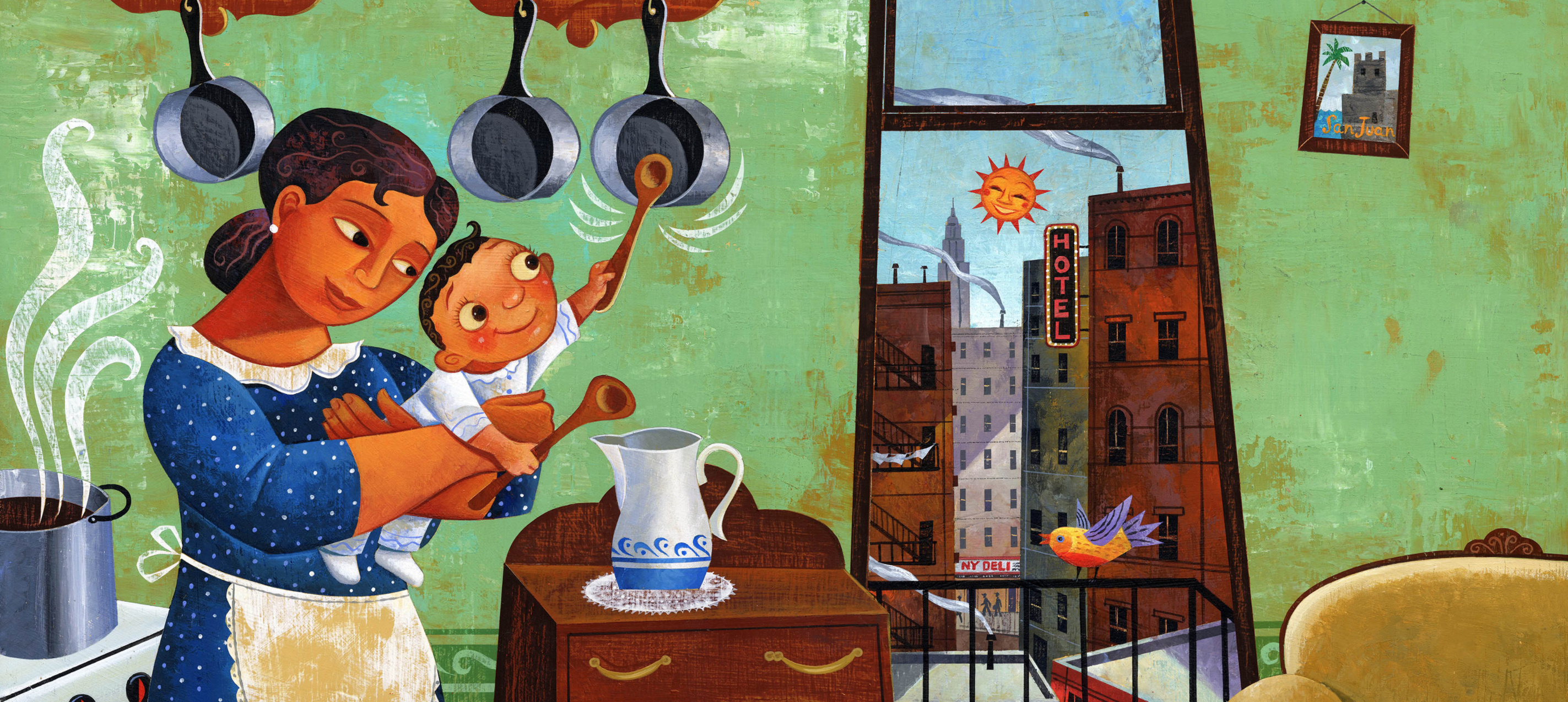 Young Tito learned to play several different instruments as a child, starting with piano and then percussion followed by saxophone, vibraphone and timbales. He was naturally gifted and became a professional musician and the tender age of 13.
He was apprenticed to the well known Machito Orchestra. Then Tito was drafted into the United States Navy and served aboard ship during World War II.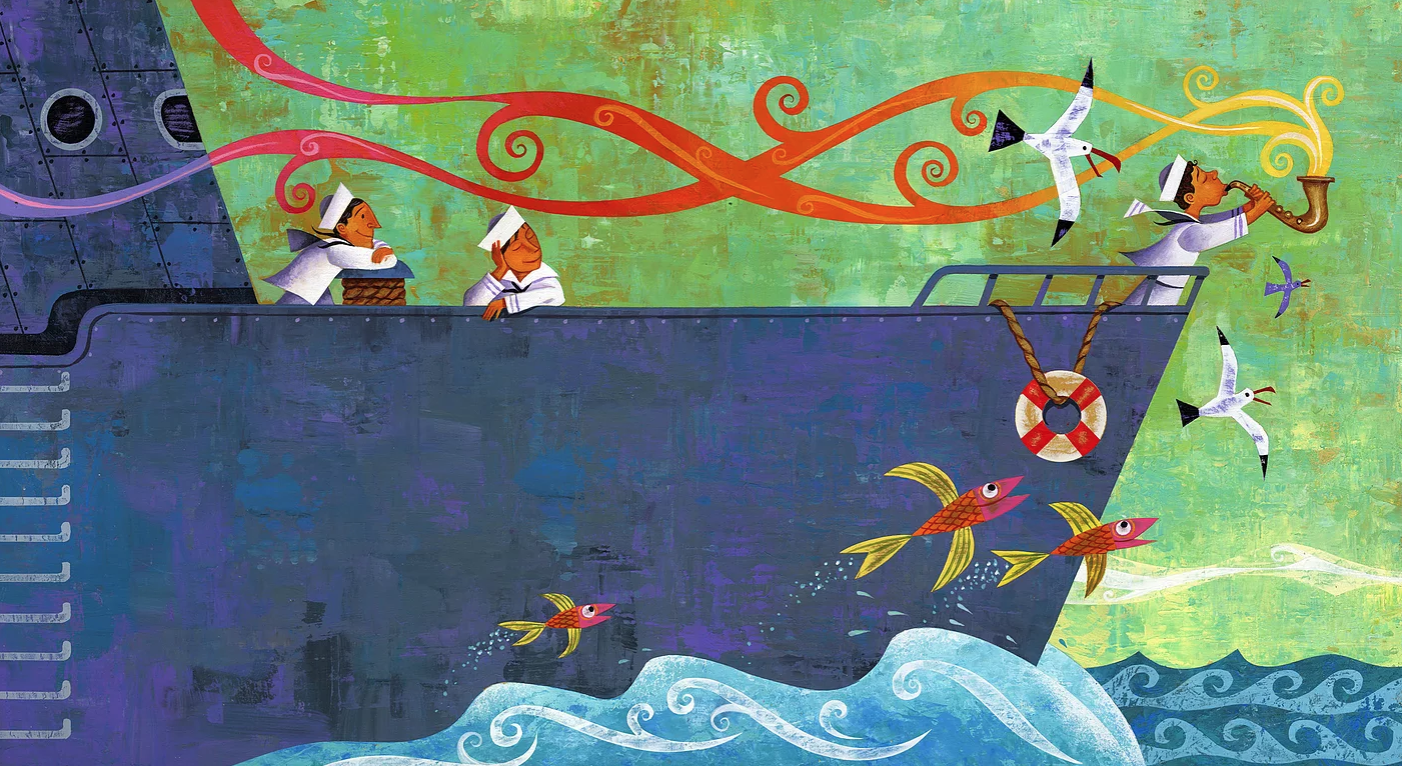 In 1945, after the war, Puente returned to New York to focus on his musical career. He wisely invested money from the G.I. Bill to further his talents and studied at the famous Juilliard School. Perfecting his craft, by 1948 he had formed the Tito Puente Orchestra. It was typical that a drummer would sit in the back of a big band but not Tito. He put the percussion right up front, timbales, conga and bongo so he could cue the orchestra-he was the leader of the band.  As time passed he began to play for larger crowds drawn to his energized, unique sound.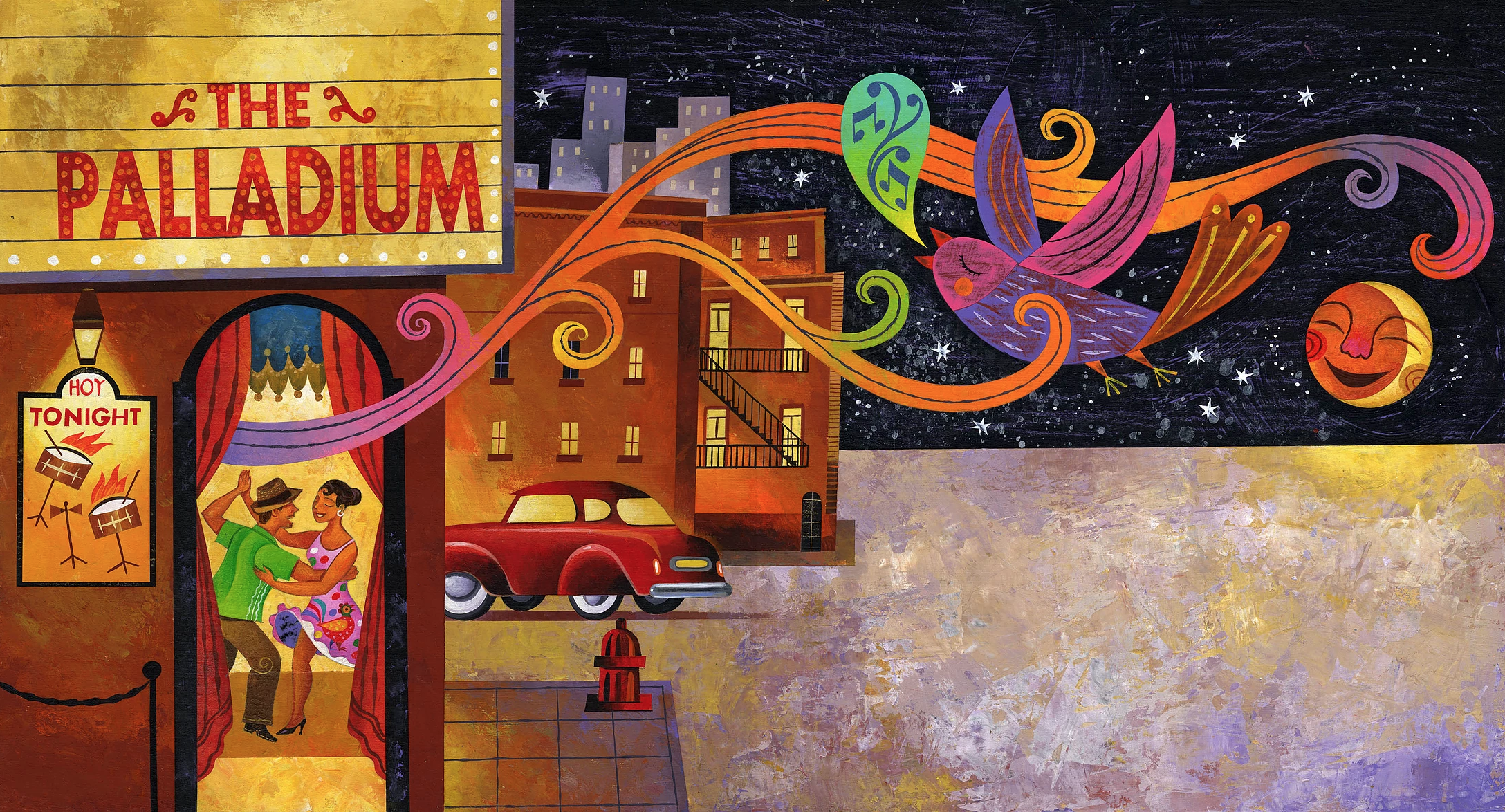 Not afraid to try new things, Puente blended the big band style with traditional Latin dances, jazz and other genres to create musical magic. To the mix, Tito added Afro-Cuban beats, bossa nova, cha-cha, merengue and salsa experimenting with musical ingredients in an innovative way that made you move your feet.
If there is no dance, there is not music. -Tito Puente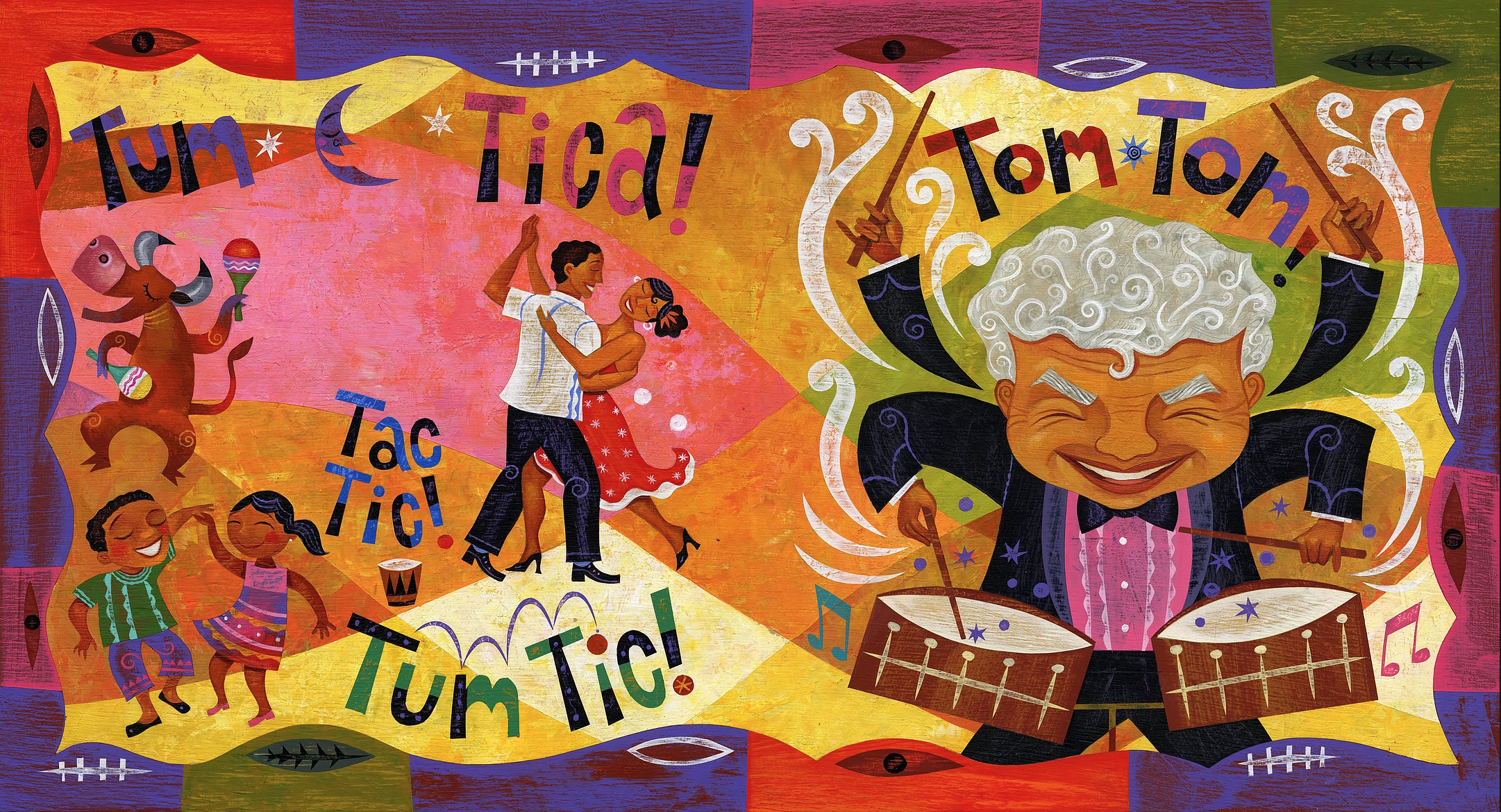 Puente received many awards for his music, including five Grammy Awards. One of his nicknames was "El Rey de los Timbales" which translates to the The King of the Timbales. He went on to guest star on popular T.V. shows like Sesame Street and The Simpsons and his music and charisma made him part of popular culture. Tito appeared in feature films such as The Mambo Kings and Calle 54. He performed with leading jazz artists and symphony orchestras and was given the National Medal of the Arts.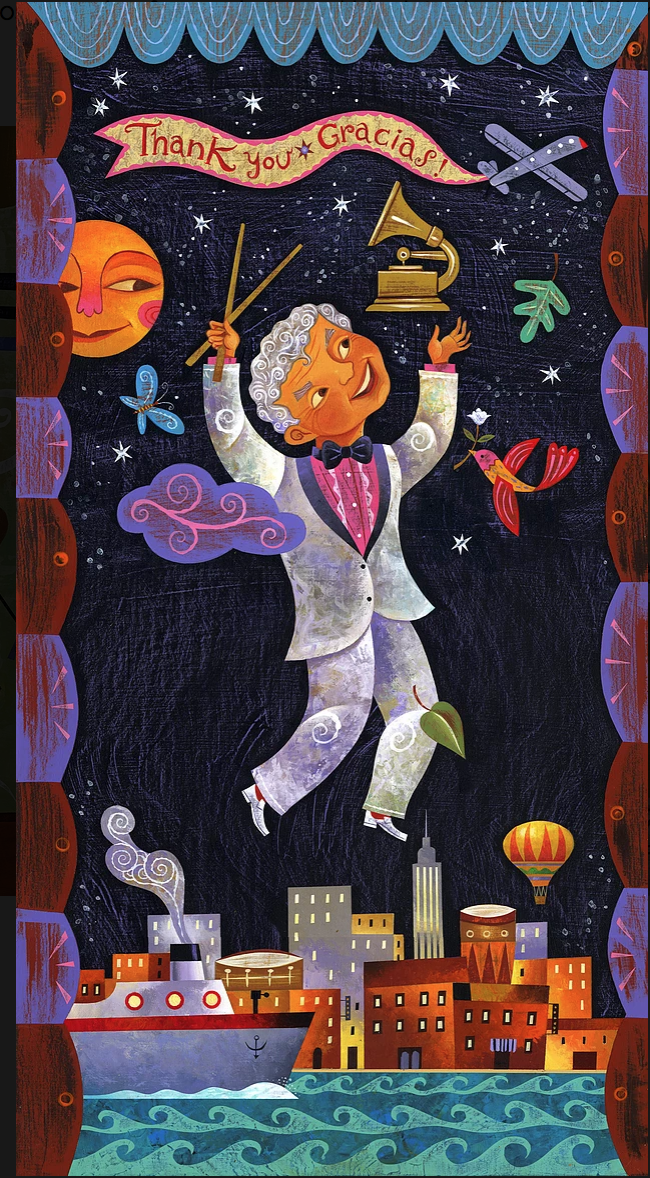 He wrote over 200 compositions, created 2000 musical arrangements and 118 albums. After more than 10,000 live performances he was respected by peers and fans as a musical legend. Perhaps his most famous composition was the mambo Oye Como Va that was made popular by Carlos Santana and later sung by Celia Cruz and Julio Iglesias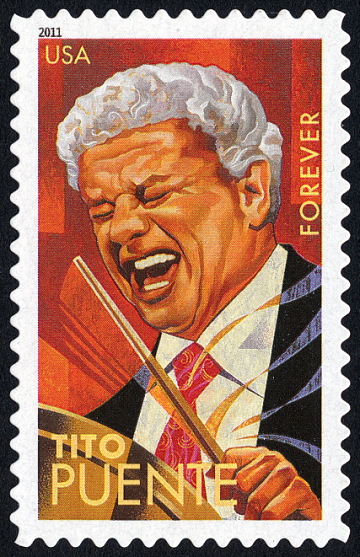 He was generous and helped launch many musical careers. Determined to make a difference he dedicated himself to causes beyond music and worked for the Latin community throughout his life. At Juilliard, he created a scholarship for Latin percussionists, determined to fuel the next generation in pursuit of their musical dreams.
Tito Puente died at age 77 and with a worldwide following, his fans waited in line for days to say goodbye. His music and legacy continues.