CELIA CRUZ [1925-2003]stood out as the most influential female figure in Afro-Cuban music. Her flamboyant style, powerful projection and the warmth of her voice resonates. She was born in Havana, Cuba, the second oldest in a family of fourteen children and often sung the younger ones to sleep. Her African ancestors were forcibly brought to the island to work in the sugar fields. Her father was a railroad stoker and wanted Celia to become a teacher. She had other ideas and as a teenager won first prize in a radio singing contest. Drawn to Cuba's strong salsa sound she connected to music that blended African rhythms with more traditional Spanish music. Celia was determined and went on to study voice, piano and music theory at the National Conservatory of Music in Havana.
When opportunity presents itself grab it. Hold on tight and don't let go. -Celia Cruz
Her big break came when the well known Cuban band, La Sonora Matancera brought her on as their lead vocalist. She was the rare female voice on the Cuban music scene, and the band played at the legendary Tropicana Nightclub, starred in films and toured all over Latin America. In 1959, Cuba became a socialist state under the leadership of Fidel Castro.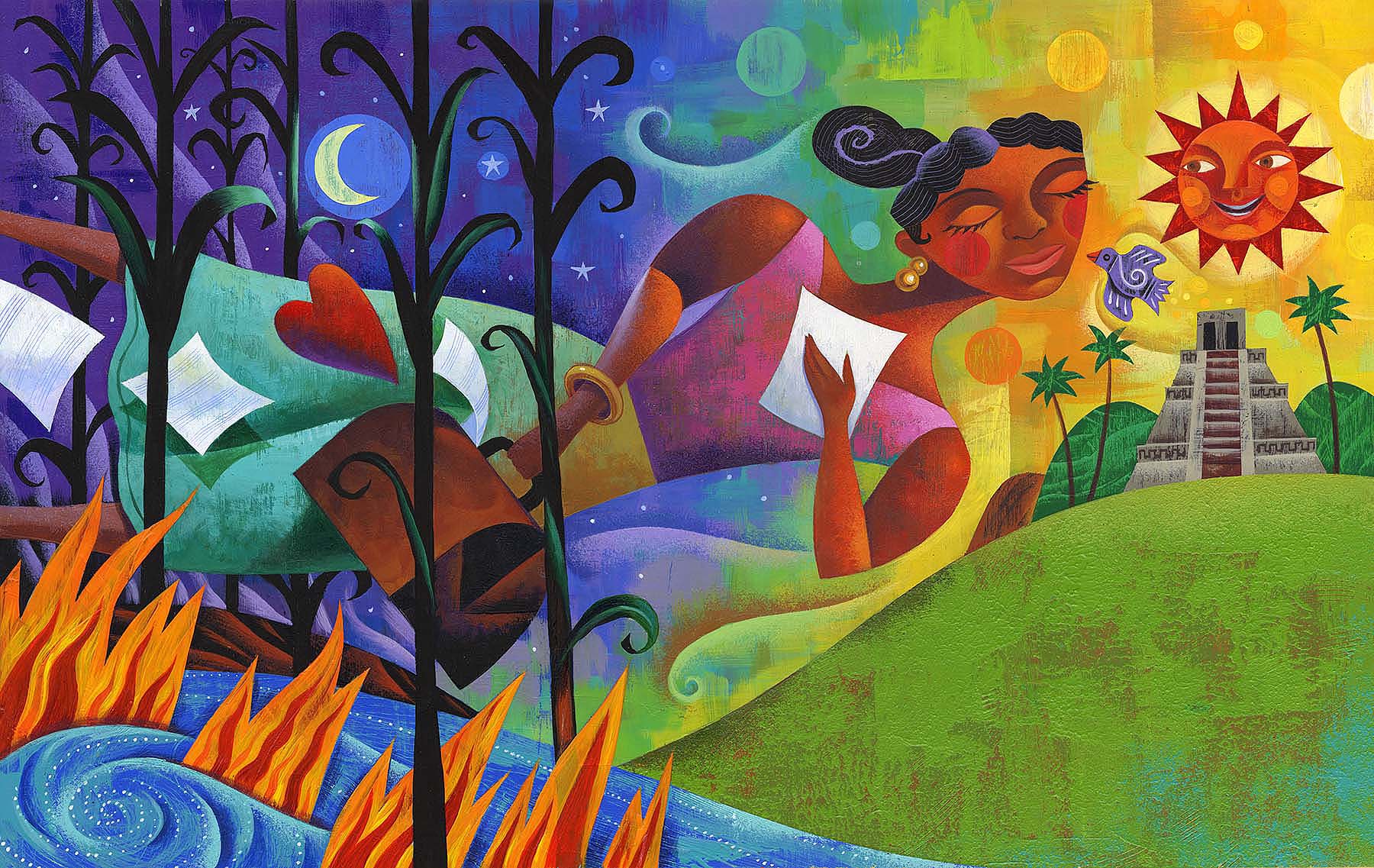 "I send to Cuba my voice, from this distant beach." This is a line from a song sung by Celia Cruz in the early days of her exile from her native country.
This illustration was created for the book My Name is Celia written by Monica Brown. While the band was on tour in Mexico they decided to defect and this outraged Fidel Castro who vowed the group would never return to Cuba again. They settled in the U.S. and although Celia lived in New York she was a big star in Miami and performed there regularly. Cuban-Americans connected with her life and music as they identified with fleeing Cuba to achieve success in their new homeland. When the singer died from cancer in 2003, her casket was flown to Miami where 200,000 fans turned out to say goodbye.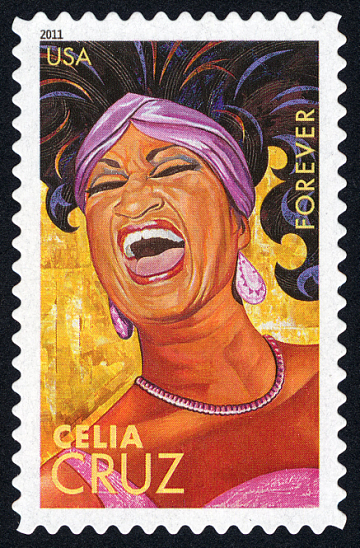 In 2011 I was asked to create her portrait as part of a series for the United States Postal Service called Latin Music Legends. Once the singer was dining in a Miami cafe when a waiter asked her if she wanted sugar in her coffee. In a Billboard interview she replied, "Chico, you're Cuban. How can you even ask that? With sugar!" and so her signature shout was born. When she came on stage she would cry out Sugar! "Azucar" and the audience went wild. For the portrait above I attempted to capture her energy and style. She was famous for improvising lyrics and her music forces you to get up and move. In dazzling costumes, crazy wigs and soaring platform heels she wowed fans with her dynamic, one of a kind style.
At first she was unknown beyond the Cuban exiles but in the mid-1960's joined the Tito Puente Orchestra. The Queen of Salsa went on to make gold and multiple platinum records and win eight Grammy awards. The National Endowment of the Arts also awarded her the American National Medal of the Arts. Celia, a telenovela in eighty episodes aired on Telemundo, hosted by Marc Anthony and Gloria Estefan. In New York a music school, The Celia Cruz Bronx High School of Music was named, a tribute to her unforgettable musical legacy.